Private-sector Engagement
Extensive engagement with the private sector has been integral to the Roadmap since its inception. With the advent of the priority actions, engagement with the private-sector engagement was strengthened to ensure it was occurring at all the necessary levels, from the technical to the strategic.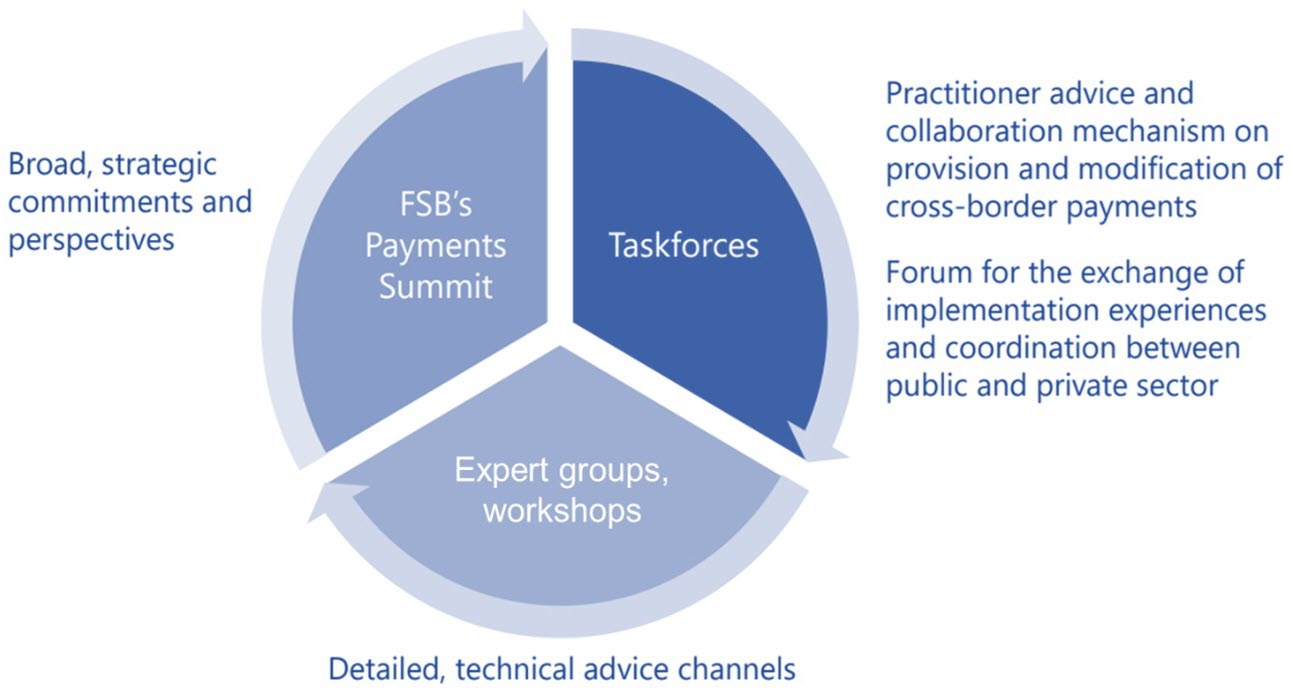 Annual payments summit

The FSB held its first annual Cross-border Payments Summit in October 2022. The Summits bring together senior executives from the payments industry and senior policymakers to discuss strategic developments in cross-border payments and how the public and private sectors can further collaborate in taking forward the initiatives that are most likely to contribute to achieving the G20 targets by the 2027 target date (2030 for remittances).
FSB Taskforce on Legal, Regulatory, and Supervisory matters (LRS Taskforce)

Overview

The FSB's LRS taskforce was established in 2023 and serves as a mechanism for regular engagement between the public sector and senior managers from the private sector that helps to support the implementation of the G20 Roadmap. LRS members are senior managers with significant experience and direct responsibilities related to cross-border payments in the areas of compliance, legal, cross-border operations or risk management. An important goal for the FSB is to have a diverse membership from a geographic and business perspective, both within the LRS taskforce and between the LRS taskforce and the complementary Bank for International Settlements' Committee on Payments and Market Infrastructures (CPMI) Taskforce on Cross-border Payments Interoperability and Extension

The goal of the LRS taskforce is to strengthen private-sector participation in taking forward the G20 Roadmap by:

providing input and feedback on frictions in legal, regulatory or supervisory frameworks related to the provision of cross-border payments and relevant data-related frameworks (e.g. how differences across standards relate to cross-border payments or in their regulatory implementation, or how a lack of harmonisation between data frameworks contribute to the challenges faced by cross-border payments)

contributing to analysis of potential areas for action that could address the identified frictions

Members 

Meetings