Good Practices for Crisis Management Groups (CMGs)
30 November 2021
Crisis Management Groups (CMGs) of Global Systemically Important Banks (G-SIBs) have been in place for over 10 years as a core part of the post global financial crisis coordination infrastructure.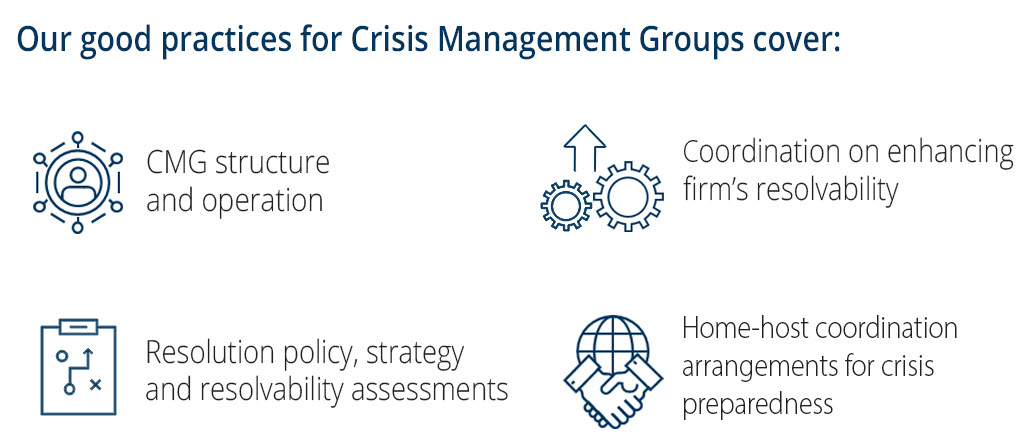 This report sets out good practices that have helped CMGs to enhance their preparedness for the management and resolution of a cross-border financial crisis affecting a Global Systemically Important Bank (G-SIB) as per the FSB Key Attributes. It draws on a stocktake carried out by the FSB in 2020 and CMG members' experience during the COVID-19 pandemic.
The focus is on CMG activities that seek to enhance crisis preparedness rather than on cooperation during a actual itself. The good practices identified in this report are organised along 16  desired outcomes that CMGs seek to achieve and relate to:
the structure and operation of CMGs;

resolution policy, strategy and resolvability assessments;

coordination on enhancing firm's resolvability; and

enhancing home-host coordination arrangements for crisis preparedness.  
A shared understanding of these practices can help lean against fragmented approaches and help to enhance the effectiveness of CMGs.. While many of these practices have been well established, others are emerging or developing.
As CMGs continue to evolve, the FSB will continue to monitor the development of their practices and consider any future work to promote consistency and effective operation of CMGs.