Basel III – Implementation
Full, timely and consistent implementation of Basel III is fundamental to a sound and properly functioning banking system that is able to support economic recovery and growth on a sustainable basis. Consistent implementation of Basel standards will also foster a level playing field for internationally-active banks. In December 2017, the Group of Central Bank Governors and Heads of Supervision, which is the Basel Committee's oversight body, endorsed the finalisation of Basel III reforms. Following a one-year deferral to increase the operational capacity of banks and supervisors to respond to COVID-19, these reforms will take effect from 1 January 2023 and will be phased in over five years.
The FSB has designated Basel III as one of the priority areas for implementation monitoring. The task of regular monitoring and reporting in this area is carried out by the Basel Committee on Banking Supervision (BCBS). To monitor progress and assess the implementation of Basel III and its outcomes, the BCBS established the finalisation of Basel III reforms in 2012.
The FSB published in November 2020 its on 2020 annual report the implementation and effects of the G20 financial regulatory reforms. Below is an extract from this report on the status of implementation of Basel III.
Regulatory adoption of several core Basel III elements has generally been timely to date, but there are delays in some FSB jurisdictions in implementing other Basel III standards
The leverage ratio,1 Net Stable Funding Ratio (NSFR), and the supervisory framework for measuring and controlling large exposures (LEX) are not yet in place in all jurisdictions, though there was some progress in implementing the LEX framework over the past year. There is still limited progress in the implementation of other Basel III standards whose deadline has passed.2  The BCBS is monitoring implementation closely and will consider additional measures to improve timeliness.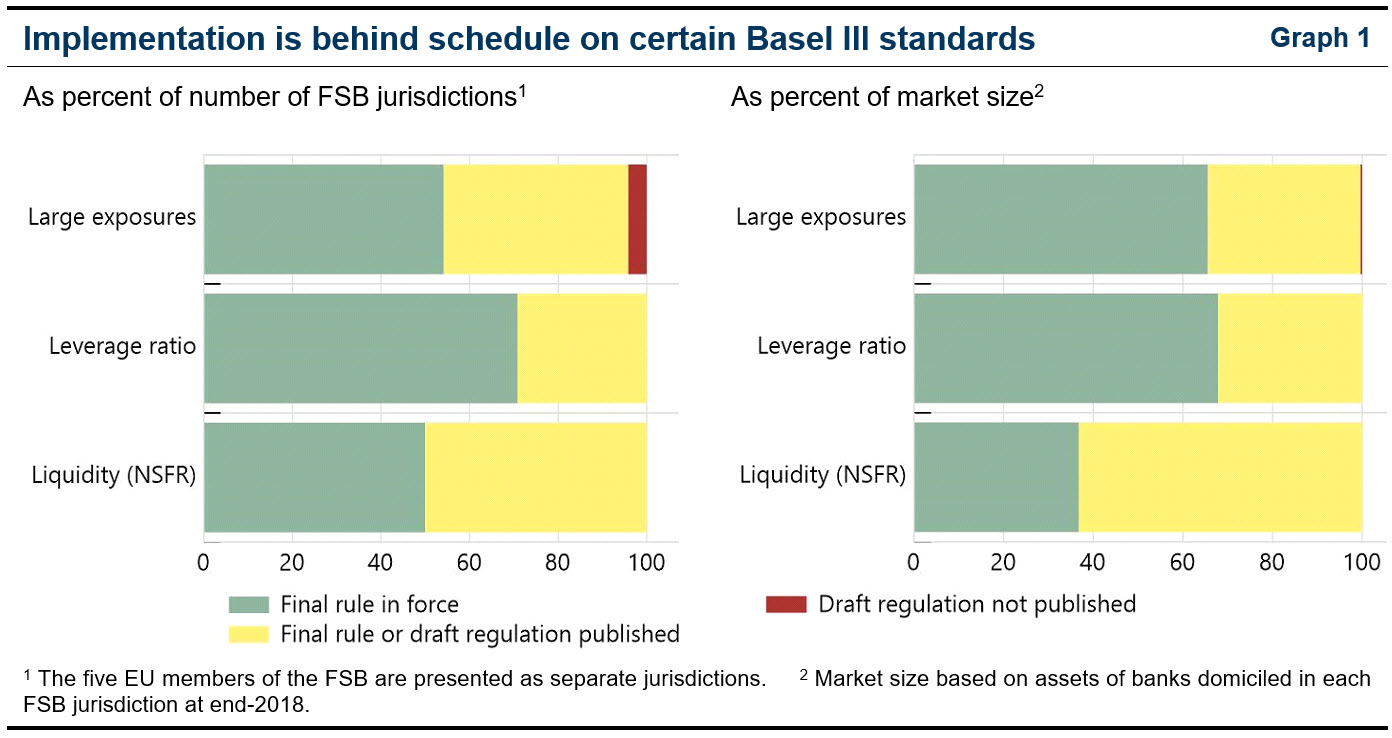 Implementation of the finalised Basel III reforms, which were agreed in December 2017 and will take effect from January 2023, has started but is still at a very early stage.
Recent assessments of consistency of implementation with Basel standards are positive.
In 2018 the BCBS began to assess the consistency of implementation of the NSFR and the large exposures framework. The 10 FSB jurisdictions assessed so far were found to be compliant with both standards.
Authorities in many jurisdictions have taken regulatory and supervisory measures to alleviate the economic impact of COVID-19 on the banking system. The large majority of these measures make use of the flexibility embedded in the Basel framework.
Most measures taken make use of the flexibility in the current Basel III framework or in forthcoming Basel standards, such as in the form of system-wide and firm-specific buffers. These measures are mainly capital or liquidity-related, and aim to support banks' ability to continue lending and meet their liquidity needs.
There have been a few cases where individual measures went beyond the flexibility of the standards. Most of these are temporary, in order to respond to extreme financial conditions and to provide additional operational flexibility to financial institutions. Such measures include reducing certain credit risk capital, leverage ratio or liquidity requirements; and postponing the application of the LEX framework.
Status of implementation
View status of implementation of reforms in priority areas by FSB jurisdictions as reported in the latest FSB annual report to G20 (as of November 2020)
For further information, see the latest BCBS report to G20 Leaders on implementation of the Basel III regulatory reforms (November 2020).
---
1 Based on the existing (2014) exposure definition. Implementation based on the revised exposure definition, agreed in December 2017, is due by 2023. Eleven FSB jurisdictions have issued draft or final rules for the leverage ratio based on the 2017 definition.↩
2 They include: interest rate risk in the banking book; standardised approach for counterparty credit risk exposures; capital requirements for bank exposures to central counterparties, equity investments in funds and TLAC holdings; margin requirements for non-centrally cleared derivatives; and the revised Pillar 3 framework.↩