Thomas Jordan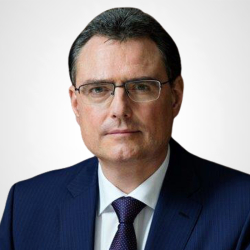 Chair of SCBR
Chairman, Governing Board of the Swiss National Bank (SNB)
Thomas J. Jordan is Chairman of the Governing Board of the Swiss National Bank (SNB). He received his PhD in economics from the University of Bern in 1993. Following a three-year post-doctoral research position at the Department of Economics at Harvard University, he joined the SNB as an Economic Advisor in 1997. The University of Bern appointed him lecturer in 1998 and honorary professor in 2003, and he received an honorary doctorate from the University of Basel in 2017.
In 2007, the Federal Council appointed Thomas J. Jordan to the position of Member of the SNB's Governing Board. In 2010, he was appointed Vice Chairman and in 2012 Chairman of the Governing Board.
Thomas J. Jordan is also a member of the Board of Directors of the Bank for International Settlements (BIS) in Basel and of the Steering Committee of the Financial Stability Board (FSB). He is the Governor of the International Monetary Fund (IMF) for Switzerland, as well as Chairman of the G10 Central Bank Counterfeit Deterrence Group (CBCDG).