Nerses Yeritsyan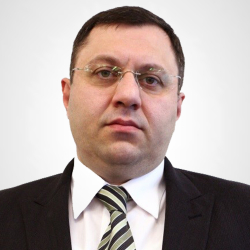 Co-Chair RCG for the CIS
Deputy Governor, Central Bank of Armenia
Nerses Yeritsyan was appointed Deputy Governor of the Central Bank of Armenia for a term of six years starting in December 2010 and reappointed again for another term of six years in December 2016.
Prior to his appointment, from 2007 until 2010 Mr. Yeritsyan served as the Minister of Trade and Economic Development of Armenia and Minister of Economy of Armenia.
Mr. Yeritsyan started his career as Chief-Expert to the Standing Commission on Social and Healthcare Affairs in the Parliament of the Republic of Armenia in 1993. Since joining the Central Bank as assistant to the Chairman of the Central Bank of Armenia, he has occupied increasingly senior positions, first as Head of Monetary Policy Department, Board Member of the Central Bank of Armenia for two terms.