Ayman Alsayari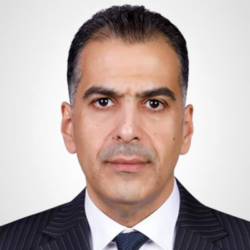 Co-Chair RCG for MENA
Governor, Saudi Central Bank
Ayman Al-Sayari is the current Governor of the Saudi Central Bank, appointed by a Royal Order on 2 February 2023. He also serves as the Chair of the Saudi Central Bank Board of Directors.
Prior to this, he was appointed Vice Governor of the Saudi Central Bank for Investment and Research on 3 July 2022 and Vice Governor of the Saudi Central Bank on 17 October 2019. He has also served as Deputy Governor for Investment at the Saudi Central Bank from 2013 to 2019. In addition, he is a Board Investment Committee Member at the Public Investment Fund (PIF), a Board Member at the Saudi Fund for Development (SFD) and Chairman of the Nomination and Remuneration Committee, and a Board Member at the National Debt Management Center (NDMC) and Chairman of the Audit and Risk Committee.
Mr Al-Sayari started his professional career at the Saudi Industrial Development Fund (SIDF) as a financial analyst and achieved Chase Manhattan certification in credit analysis. He joined the Saudi Central Bank (previously known as the Saudi Arabian Monetary Authority, SAMA) in 1999 and was seconded in 2003 to the World Bank Group for three years to work in the Capital Markets Department of the International Finance Corporation IFC.
He holds a Bachelor's degree in Accounting from King Fahd University of Petroleum & Minerals (KFUPM) and a Master's degree in Business Administration specializing in Finance from George Washington University. He has participated in various specialized programs conducted by banks and international asset management firms, completed the General Management Program of Harvard Business School at Harvard University, and is a CFA Charterholder.