Transforming Shadow Banking into Resilient Market-Based Finance
Shadow banking is non-bank credit intermediation involving bank-like activities, such as maturity/liquidity transformation and/or leverage, that can become a source of systemic risk. This risk can be compounded where non-bank activities have links to the banking system.
Non-bank finance provides a valuable alternative to bank funding and helps to support real economic activity. It is also a welcome source of diversification from credit supply provided by banks.
The FSB's work on shadow banking follows a two-pronged strategy:
Monitoring – an annual system-wide monitoring exercise to assess global trends and risks of shadow banking system; and
Policymaking – developing a range of policy recommendations to address the financial stability risks from shadow banking highlighted by the crisis.
The objective of the FSB's work is to ensure that shadow banking is subject to appropriate oversight and regulation to address bank-like risks to financial stability emerging outside of the regular banking system while not inhibiting sustainable non-bank financing models that do not pose such risks. The approach is designed to be proportionate to financial stability risks, focusing on those activities that are material to the system, using as a starting point those that were a source of problems during the crisis.
Monitoring
Since 2011, the FSB has undertaken an annual monitoring exercise to assess global trends and risks in the shadow banking system. The monitoring exercise starts by casting the net wide to take a view of assets across the whole financial sector and then focuses on a narrow "shadow banking" measure of  those financial activities that could pose (e.g. maturity/liquidity transformation, leverage) to the financial system. To arrive at the narrow measure, non-bank financial entities are classified into five economic functions, each of which involves non-bank credit intermediation that may pose shadow banking risks. This allows for a more accurate refinement of the narrow measure through exclusion of non-bank financial entities that do not fall into the economic functions and therefore are unlikely to pose a financial stability risk.
The narrow measure assesses risk before policy measures and risk management tools are applied. This allows authorities to separately assess the effectiveness of existing policy tools to address financial stability risks from shadow banking and identify any residual risks that may warrant policy responses.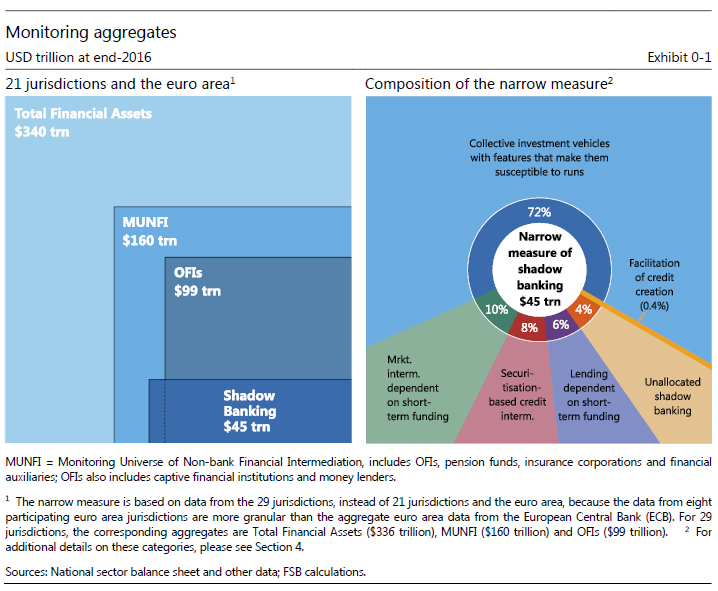 The latest Global Shadow Banking Report was published in March 2018 and found that the narrow measure of shadowing banking – those that may give rise to financial stability risks – grew by 7.6% to $45.2 trillion at end-2016. Within the narrow measure, collective investment vehicles with features that make them susceptible to runs represented 72%, growing by around 11% in 2016. Non-bank financial entities engaged in loan provision that is dependent on short-term funding, such as finance companies, shrank by almost 4% in 2016, to 6% of the narrow measure. Market intermediaries that depend on short-term funding or secured funding of client assets (e.g. broker-dealers) declined by 3%, to 8% of the narrow measure by end-2016.
Policymaking
At the November 2010 Seoul Summit, the G20 Leaders asked the FSB to develop policy recommendations to strengthen the oversight and regulation of shadow banking activities. The FSB has been coordinating and contributing to the development of policies in five areas where oversight and regulation needs to be strengthened to mitigate the potential systemic risks associated with shadow banking, namely:
mitigating the spill-over effect between the regular banking system and the shadow banking system;
reducing the susceptibility of money market funds (MMFs) to "runs";
improving transparency and aligning incentives associated with securitisation;
dampening pro-cyclicality and other financial stability risks associated with securities financing transactions such as repos and securities lending; and
assessing and mitigating systemic risks posed by other shadow banking entities and activities.
When implemented, this integrated set of policies should mitigate financial stability risks from shadow banking and help to transform it into resilient market-based financing that will support sustainable economic growth.
In July 2017, the FSB reported to the G20 Leaders its assessment of the evolution of shadow banking activities and risks since the financial crisis, and the adequacy of post-crisis policies and monitoring to address these risks. The assessment underscored the importance of a system-wide oversight framework, and recommended further strengthening of the oversight and monitoring of shadow banking activities, and enhancements to the data collection framework. At the time of the assessment, the FSB did not identify new financial stability risks from shadow banking that would warrant additional regulatory action at the global level. New forms of shadow banking were nevertheless likely to develop in the future, emphasising the importance of continued monitoring to mitigate associated risks and support the transformation of these activities into resilient market-based finance. To address residual gaps and further enhance oversight, FSB member authorities agreed on seven recommendations, which are described in the assessment report below.