Enhancing Resilience of Non-Bank Financial Intermediation
Non-bank financial intermediation (NBFI) provides a valuable alternative to bank financing and helps to support real economic activity. However, if such intermediation involves activities that are typically performed by banks, such as maturity/liquidity transformation and/or the creation of leverage, it can become a source of systemic risk. This risk can be compounded where non-bank activities have links to the banking system.
The FSB created a system-wide monitoring framework to track developments in NBFI in response to a G20 Leaders' request at the Seoul Summit in 2010. The objective of the monitoring exercise is to identify the build-up of systemic risks in NBFI and initiate corrective actions where necessary. Complementing this monitoring, the FSB has been coordinating and contributing to the development of policies to mitigate potential systemic risks associated with NBFI.
The objective of the FSB's work is to ensure that NBFI is subject to appropriate oversight and regulation to address bank-like risks to financial stability emerging outside of the regular banking system, while not inhibiting sustainable non-bank financing models that do not pose such risks. The approach is designed to be proportionate to financial stability risks, focusing on those activities that are material to the system, using as a starting point those that were a source of problems during the crisis.
The FSB's holistic review of the March market turmoil, sets out an NBFI work programme, focusing on three main areas: work to examine and address specific risk factors and markets that contributed to amplification of the March 2020 shock; enhancing understanding of systemic risks in NBFI and the financial system as a whole, including interactions between banks and non-banks and cross-border spill-overs; and assessing policies to address systemic risks in NBFI. As part of that work, the FSB will identify ways to enhance its annual monitoring exercise (e.g. on data gaps and risk metrics).
Monitoring
To assess global trends and risks in non-bank financial intermediation (NBFI), the Financial Stability Board (FSB) has been conducting an annual monitoring exercise since 2011. The monitoring exercise starts by casting the net wide to take a view of assets across all financial sectors and then focuses on the subset of non-bank financial intermediation with increased potential for systemic risks, and/or regulatory arbitrage. To arrive at the narrow measure, non-bank financial entities are classified into five economic functions (or activities), each of which involves bank-like financial stability risks (i.e. credit intermediation that involves maturity/liquidity transformation, leverage or imperfect credit risk transfer).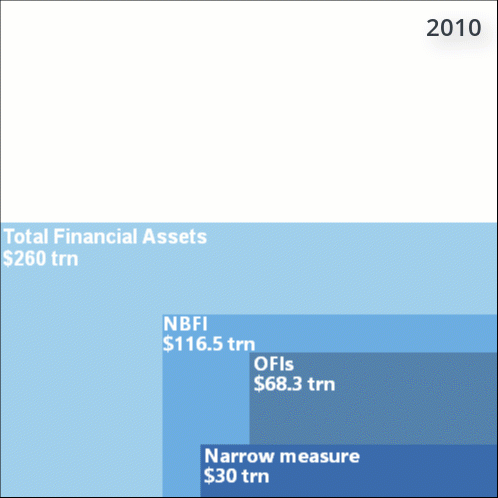 The inclusion of non-bank financial entities or activities in the narrow measure is based on a conservative assessment of the risks such entities or activities may pose, especially during stressed events, on a pre-mitigant basis (reflecting an assumption that policy measures and/or risk management tools are not exercised). This allows authorities to separately assess existing policy tools to address financial stability risks from non-bank financial intermediation and identify any residual risks or activities that may warrant policy responses.
The latest monitoring report was published in December 2020, and reports that the narrow measure of NBFI grew by 11.1%, to $57.1 trillion in 2019, at a faster pace than the 2013-18 average annual growth rate of 7.1%. At end-2019 it represented 14.2% of total global financial assets. Within the narrow measure, collective investment vehicles with features that make them susceptible to runs grew by 13.5% in 2019 and represented 72.9% of the narrow measure. Non-bank financial entities engaged in loan provision that are dependent on short-term funding, such as finance companies, grew by 6.1% in 2019, and constituted 6.8% of the narrow measure. Market intermediaries that depend on short-term funding or secured funding of client assets (e.g. broker-dealers) grew by 5.4%, and represented 8.2% of the narrow measure.