Şahap Kavcıoğlu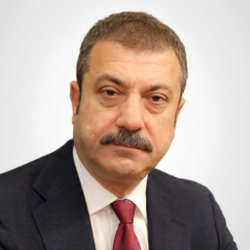 Co-Chair RCG for MENA
Governor, Central Bank of the Republic of Türkiye
Şahap Kavcıoğlu was born on 23 May 1967 in Bayburt. He graduated from Dokuz Eylül University, Faculty of Economics and Administrative Sciences, Department of Business Administration. He graduated from Istanbul University Institute of Accounting as an Audit Specialist and studied Business Administration at Hastings College, Prof. Kavcıoğlu received his master's degree and Ph.D. from Marmara University Banking and Insurance Institute.
After serving as Assistant Inspector, Inspector, Branch Manager and Deputy General Manager at Esbank TAŞ, he worked as Deputy General Manager at Halkbank.
Mr Kavcıoğlu, who was elected Bayburt Deputy from the Justice and Development (AK) Party in the 26th term parliamentary general elections of 1 November 2015, took on several duties during the term of his office as a Member of the Committee on Plan and Budget of the Grand National Assembly of Türkiye and a Member of the Turkish Group at the Inter-Parliamentary Union (IPU). After August 2018, Mr Kavcıoğlu served as Deputy Chairman of the Board of Directors of Vakıfbank, and as Chairman of the Board of Directors of Vakıf Real Estate Investment Trust, one of its affiliates.