Benjamin E. Diokno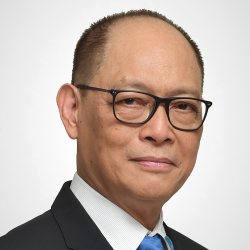 Co-Chair RCG for Asia
Governor, Bangko Sentral ng Pilipinas
Benjamin E. Diokno is the current Governor of the Bangko Sentral ng Pilipinas (BSP). Prior to his appointment as Governor, he served 3 Administrations—as Budget Secretary from 2016 to 2019, Budget Secretary from 1998 to 2001, and as Budget Undersecretary from 1986 to 1991.
Some of his major policy reform contributions include: providing technical assistance to the 1986 Tax Reform Program to simplify the income tax system and introduce the value-added tax, initiating a What-You-See-Is-What-You-Get policy to streamline the release of funds, sponsoring the internationally-lauded Government Procurement Reform Act to modernize, regulate, and standardize government procurement activities in the Philippines, among others.
He holds a Bachelor's Degree in Public Administration from the University of the Philippines, a Master's Degree in Public Administration and Economics from the same university, a Master of Arts in Political Economy from the Johns Hopkins University in Baltimore, Maryland, USA, and a Ph.D. in Economics from the Maxwell School of Citizenship and Public Affairs, Syracuse University in Syracuse, New York, USA.