The FSB has designated policy measures for systemically important financial institutions (SIFIs) as one of the priority areas for implementation monitoring. The task of regular monitoring and reporting in this area is carried out by the FSB in collaboration with standard-setting bodies as follows:
FSB and Basel Committee on Banking Supervision (BCBS) on assessment and identification, additional loss absorbency, enhanced supervisory intensity and actions to improve the resolvability of global systemically important banks (G-SIBs); and
FSB and International Association of Insurance Supervisors (IAIS) on assessment and identification, additional loss absorbency, enhanced supervisory intensity and actions to improve the resolvability of global systemically important insurers (G-SIIs).
The FSB published its third annual report to the G20 on the implementation and effects of the G20 financial regulatory reforms in July 2017. Below is an extract from this report on the status of implementation of TBTF reforms.
Processes for identifying G-SIBs and G-SIIs are in place.
Lists of G-SIBs and global systemically important insurers (G-SIIs) are reviewed annually. In March, the BCBS published a consultation document on its revised assessment framework for G-SIBs. The IAIS is developing an activities-based approach to systemic risk assessment in the insurance sector as part of the three-year review cycle of its systemic risk assessment methodology, scheduled to conclude in 2019.
The work on the assessment methodologies for identifying non-bank non-insurer global systemically important financial institutions (NBNI G-SIFIs) will be finalised after the work on addressing structural vulnerabilities from asset management activities is completed.
Implementation of the policy framework for G-SIFIs has advanced the most for G-SIBs.
Implementation of Higher Loss Absorbency as well as of reporting and disclosure requirements for G-SIBs is proceeding on a timely basis.
Supervisory frameworks have improved and supervisory colleges have been established for almost all G-SIBs. Work is underway by the BCBS to address challenges relating to information sharing and coordinated risk assessments.
Most G-SIBs have not fully implemented the BCBS Principles on risk data aggregation and risk reporting. The level of compliance with the Principles is unsatisfactory and the overall implementation progress remains a source of concern to supervisors.1 The BCBS will continue to monitor progress in adopting the principles and has made additional recommendations to banks and supervisors to promote their adoption.
TLAC issuance strategies are now in place for almost all G-SIBs, and most of them are on course to meet the 2019 requirements.2 All G-SIB home authorities except one (China) have issued proposals and three (Switzerland, UK, US) have adopted final rules on external TLAC requirements. However, work remains to fully transpose TLAC into domestic regulations, including the BCBS standard on TLAC holdings and internal TLAC requirements for host authorities of material G-SIB subsidiaries.
Substantial work remains in achieving effective resolution regimes and operationalising plans for systemically important banks and non-bank financial institutions (Graphs 5 and 6).
Only a subset of FSB jurisdictions, mostly G-SIB home jurisdictions, have implemented bank resolution regimes with comprehensive powers that are broadly in line with the FSB Key Attributes of Effective Resolution Regimes for Financial Institutions. The powers most often lacking are bail-in and powers to impose a temporary stay on the exercise of early termination rights. There are reforms underway in several FSB jurisdictions to address some, but not all, of these gaps. Still, few of these reforms have been completed over the past year.
Crisis Management Groups (CMGs) have been established for all G-SIBs, and resolution planning is advancing. G-SIBs and authorities are taking actions to improve resolvability but significant work remains to address cross-border resolution issues (see section 2.7).
Impediments to resolvability identified through G-SIB resolvability assessments include arrangements to support operational continuity and continued access to financial market infrastructures by a firm in resolution, timely and accurate valuation capabilities, as well as the presence of financial and operational interdependencies. These issues are being addressed in international processes.3
Implementation of resolution reforms is less advanced in the insurance sector. While CMGs have been established and recovery plans adopted for most G-SIIs, the absence of insurance resolution regimes with a broad range of powers and tools in several G-SII home jurisdictions remains an important impediment to resolvability.
Systematic cross-border resolution planning processes are not yet in place for CCPs, but work is underway by the FSB to provide guidance on CCP resolution and resolution planning. For CCPs that are systemically important in more than one jurisdictions, home authorities have planned or started to establish CMGs and to develop institution-specific cooperation agreements (CoAgs).
1 See the BCBS report on Progress in adopting the Principles for effective risk data aggregation and risk reporting (March 2017).↩
2 Firms that are currently headquartered in an emerging market economy and designated as G-SIBs will comply with the minimum TLAC requirements starting from 2025.↩
3 See the FSB Sixth Report on the implementation of resolution reforms.↩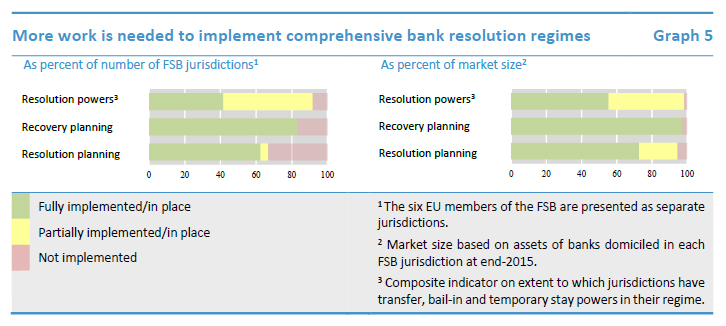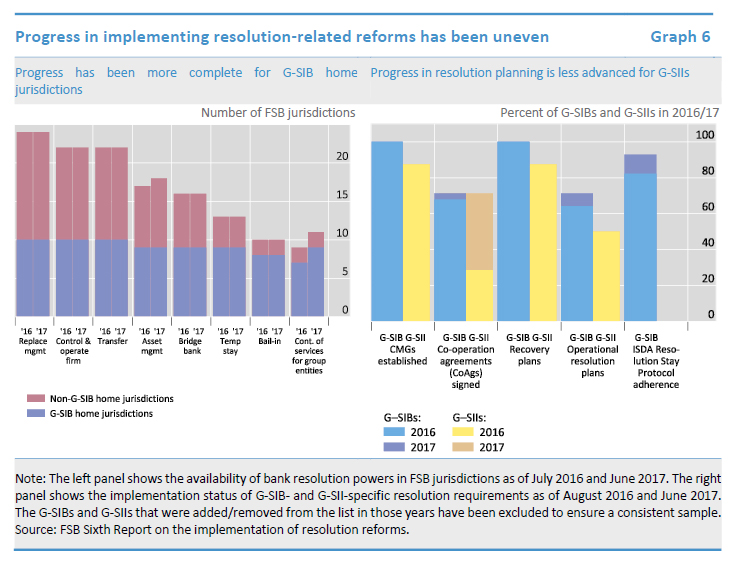 There are a number of examples where further global cooperation and information sharing, including via the removal of legal barriers that impede such cooperation, is needed.
Resolution regimes.
Effective resolution planning and the orderly resolution of a cross-border bank require national authorities to have legal powers and efficient processes for sharing information, to have developed firm-specific CoAgs with host authorities on CMGs for G-SIFIs, and to be able to give prompt effect to foreign resolution actions.
Significant work remains to put these arrangements in place and to remove impediments to cooperation and the sharing of resolution-related information with all relevant authorities. CoAgs are still not in place for nine G-SIBs and three G-SIIs (Graph 6).
More progress is also needed to put in place mechanisms for giving cross-border effect to resolution actions. G-SIB home jurisdictions have fallen behind in implementing their commitment to adopt regulations that promote the cross-border effectiveness of temporary stays through adherence to the International Swaps and Derivatives Association (ISDA) resolution stay protocol by the broader market, particularly significant G-SIB counterparties. Only some FSB jurisdictions have such mechanisms in place, though reforms are underway in a number of other jurisdictions.
Policy development and coordination initiatives on addressing SIFIs.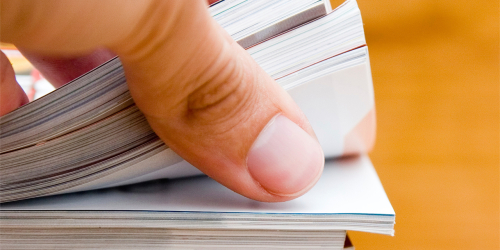 Browse publications related to Systemically Important Financial Institutions.